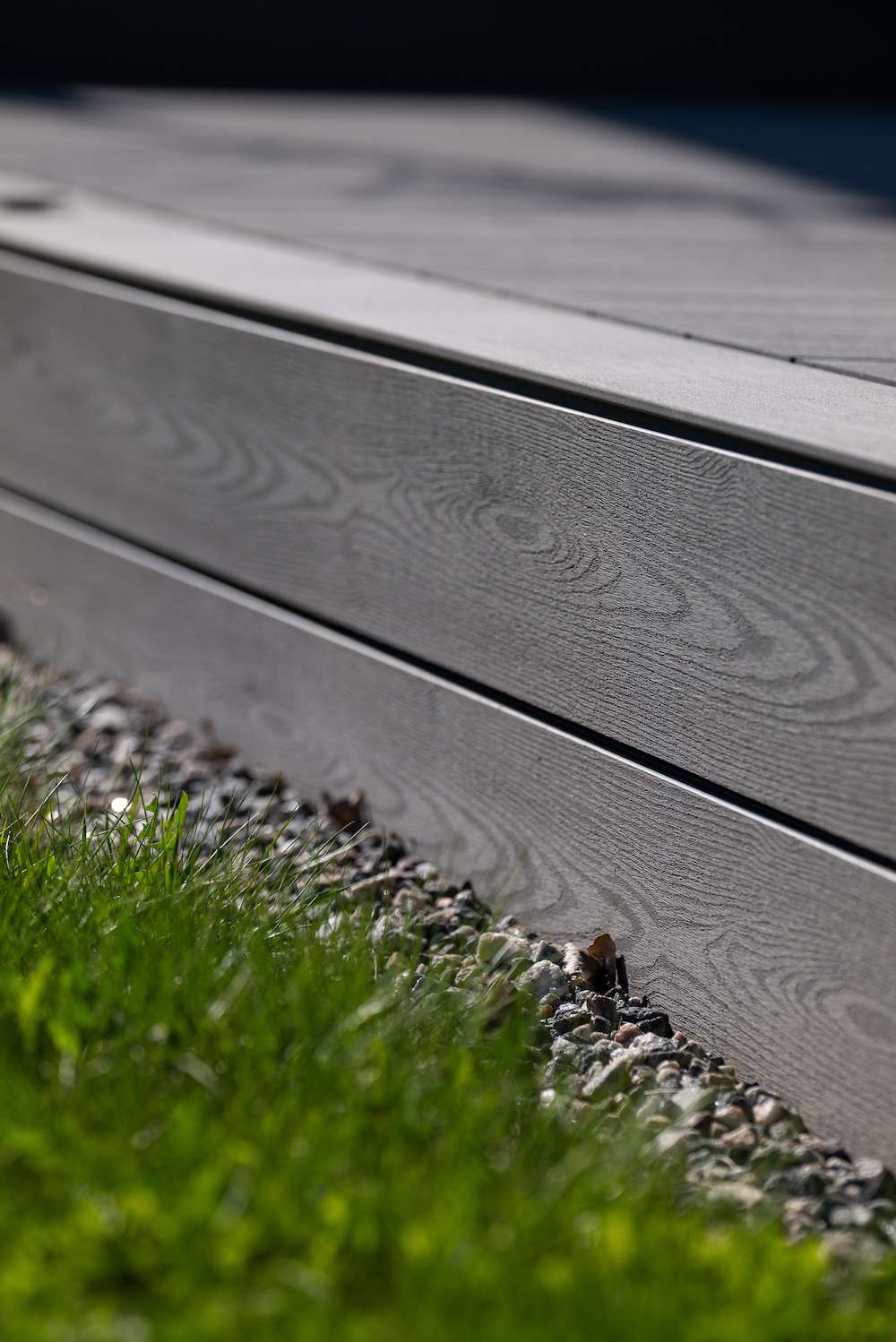 Frequently asked questions
Frequently asked questions about composite wood products
Composite wood is a combination of recycled wood and recycled plastic that does not contain toxic ingredients. The product can be used as an ecological alternative to natural wood as a construction material for terraces and fences.
Is composite wood really maintenance-free and does not need impregnation or painting?
Yes! As composite wood absorbs very little water, there is no need to protect its surfaces separately. In addition, composite wood does not rot, crack, chip, or splinter. If installed correctly, it needs nothing more than regular cleaning with normal household cleaning equipment.
The terrace can be swept and washed with a garden hose regularly. Please refer to the cleaning instructions for more information.
What are the biggest advantages of composite wood over other common deck and fence materials?
There are many advantages, for example:
composite wood does not splinter
no surface treatment required
better weather resistance without impregnating agents harmful to humans and the soil
easy installation
no heavy metal emissions
no water absorption
dimensional accuracy
Does the color fade due to the weather?
Unlike natural wood, composite wood terrace boards are highly resistant to weather conditions and UV radiation. After installation, the colour will fade mainly around the areas where the grain pattern is darker than the rest of the board, but it will settle after a few months.
The degree of fading is decisively affected by the type of UV radiation the composite board is exposed to. Composite wood is UV-protected and weather-protected to preserve the colour pigment.
At first, the colour will slightly fade, but it will stabilise soon. After this, the colour will remain natural and harmonious with the environment.
Are Pieksäwood composite wood products easy to install?
Absolutely! However, remember to always follow the installation instructions. You can find all the necessary installation supplies in the Pieksäwood composite wood product shop. You can download the installation instructions from our website. The tools used for working on natural wood are also suitable for composite wood.
Where can I use composite wood products?
Traditionally, building a terrace has been the most common use of composite wood. In addition, composite wood is used to build, for example, fences, benches, flower beds, docks, sinks, ceiling panels and wall panels for outdoor and indoor use. We believe that, in the future, this material will be more and more popular in many different construction projects thanks to its maintenance-free quality and recycled materials.
Do composite boards heat up in the sun?
Like all other terrace materials, composite boards also heat up when exposed to solar radiation. The dark areas absorb more heat energy than the light areas, but the surface temperature differences between dark and light areas of the composite board are not significant. Based on our tests, white oak and teak composite wood boards absorb the least heat – white oak even slightly less than impregnated terrace boards.
How can I visually check the composite wood before installation?
1. Check the cut surfaces. They show whether the raw materials of the composite wood are evenly mixed.
2. Check if the product has a pungent odour.
3. Examine the structure to see if it is hard and solid.
4. Examine the casting for dimensional anomalies, skewed arch walls, etc.
From what and how is composite wood made?
Composite wood contains:
60% recycled wood fibre
35% recycled plastic (high-density polyethylene (HDPE))
5% additives (bonding agents, dyes and anti-mildew agent)
Composite product manufacturing process:
Recycled wood fibre and recycled plastic are mixed. The mixture forms composite wood pellets.
The composite wood pellets are compressed into composite wood.
The surface of composite wood product is finished.
The composite wood product is ready for installation.
Is the use of composite wood ecological and sustainable?
Yes!
Our composite wood is an ecological and fully recyclable material.  It is made of recycled materials: 60% recycled wood fibre and 35% recycled plastic. All raw materials used in composite wood are non-toxic, so it is safe for plants, organisms and humans and its use does not involve any impact on the environment. Excess pieces of composite wood can be disposed of as mixed waste or recycled as energy waste.
Our composite wood products are manufactured in China at the MexyTech plant. The manufacturing process is a net-zero process, which means that the amount of greenhouse gas emissions generated during the manufacturing of the product is not greater than the amount of atmospheric emissions reduced by using recycled materials.
We want to offer an environmentally friendly and high-quality, durable terrace and fence material that has been used in Finland for more than 10 years.
How are composite wood surfaces cleaned?
Clean regularly
Regular cleaning prevents stubborn, hard-to-remove dirt from forming.
Normal terrace maintenance procedures can be carried out with a nylon brush, a sponge, a garden hose and, if necessary, a pressure washer. When using a pressure washer, ensure that the jet is not applied too close to the terrace surface and that the pressure is not too high in order to avoid damage. The jet must be directed in the direction of the plank. We recommend that you first try the pressure cleaner in an area that is not normally visible to ensure that the jet does not damage the surface.
Colour deviations may occur after cleaning, if the original colour does not appear evenly, i.e. the terrace is not cleaned completely. A protective tray under the grill is a good way to prevent the terrace from getting dirty. A more detailed overview of how to clean dirt and stains from the surface of composite wood can be found below.
Oil
Oil must be removed immediately and cleaned with a degreaser. Wash with detergent and rinse with warm water. If the stains are absorbed into the material, they are very difficult to remove.
Grease stains
Grease must be removed immediately with a degreaser or detergent. If the stains are absorbed into the material, they are very difficult to remove.
Wine/fruit stains
Clean with normal detergent and rinse with water. Tough stains can be removed with citric or oxalic acid. Rinse with plenty of water.
Scratches
Scratches can be repaired by sanding the surface with fine sandpaper. The board must be sanded longitudinally and little by little while observing the condition of the surface.
Rust and soot
Water and detergent are suitable for cleaning rust and soot. A sponge or nylon brush can be used, if necessary. If there is a lot of dirt, a detergent with citric acid or oxalic acid can be used. Rinse with water.
Solvents and fuels
In order to prevent the wood fibre structure of the composite from being discoloured by solvent or fuel stains, these stains must be removed immediately.
How are the ends of the terrace finished? Are there end pieces/edge moldings for finishing these sections?
The finishing of the terrace and step ends can be carried out with a composite barge board: Bring the terrace board about 13 mm beyond the rainscreen (this should leave a gap of a couple of millimetres between the terrace board and the groove or tongue on the barge board). Cut a longitudinal crack on the barge board's tongue or groove that will remain on the inside. After this, cut the split part off at a depth of approximately 22 mm from the edge of the tongue or groove. Adjust the blade of the circular saw to a depth that will not damage the remaining outer tongue or groove. If necessary, cut the corners to make a miter joint at an angle required by the terrace frame. The barge board can be installed by making a hole with a diameter of 1 mm larger than the screw in advance. Do not overtighten the screw.
What tools can be used to work on a composite wood board?
The tools and equipment used for working on natural wood are also suitable for composite wood. This means that you do not need any special tools for installing composite wood products.
Can composite wood crack?
Composite wood can crack if it is exposed to excessive stress or load, for example, when it is twisted or bent too much. If composite wood is exposed to excessive moisture (e.g. installed on a dock, which we do not recommend), water may enter the structure and freeze, which may result in cracks. As a rule, cracking can be avoided if the composite wood board is installed correctly in accordance with the installation instructions and maintained with the right methods – Pieksäwood composite wood is a long-lasting material with a long service life.
Are there structural changes with composite wood?
Composite wood is made of wood powder and plastic, which makes it less susceptible to problems typically related to wood products, such as cracks, decay, and warping. The structure of composite wood is also different from natural wood, the width of which in particular can vary when exposed to moisture and when drying. The maximum longitudinal variation of our composite wood is 1 mm/metre.
In general, however, composite wood is less susceptible to structural changes than natural wood, which makes it a more durable and easier material for outdoor building purposes. Taking into account the possible variation in the length of composite wood when installing it and following the installation instructions ensure that your terrace will remain durable and beautiful for years without worries.
What is the difference between different fasteners of the composite wood board?
Plastic or stainless steel fasteners can be used to secure the composite wood boards. Plastic fasteners leave a gap of 5 mm between the boards and remain visible between the boards. The benefit of these is that the visible brackets can be unscrewed, if necessary, making it easy to replace a damaged board with a new one. Stainless steel fasteners, on the other hand, remain completely concealed and leave a gap of 2 mm between the boards.
Does Pieksäwood's composite wood come with warranty?
Pieksäwood's composite wood products come with a limited 10-year warranty. The compensation is determined by the service life of the product. The service life of a composite wood product is calculated from the date of purchase of the product. The warranty covers any defects in materials and manufacturing that may occur in the product. The warranty does not cover, for example, wear and tear, discolouration, any indirect costs (for example, freight or installation costs), damaged materials if the product has not been installed in accordance with the installation instructions or damaged materials due to, for example, incorrectly built foundations. Returned products will be replaced with new products.
How much does a composite wood cost compared to wood, for example pressure impregnated terrace board?
In general, composite wood is slightly more expensive than impregnated wood. However, it is important to note that the higher price of composite wood will pay for itself in the long run as the material requires less maintenance and lasts considerably longer than impregnated wood.
The higher price of composite wood is due to several factors, such as material quality, the manufacturing process and durability. Pieksäwood's composite wood products are made of high-quality and durable materials, making them a long-lasting and maintenance-free terrace and fence material. Impregnated wood, on the other hand, is impregnated with copper compounds and requires regular maintenance and treatment to keep it in good condition.
Are the composite wood boards slippery in the rain?
Pieksäwood's composite wood boards are not slippery even in the rain. Composite wood can be slippery depending on the texture of its surface and the amount of water on it. Some composite surface structures may be more slippery than others and, if the surface is damp, it may be slippery in rain or wet weather.
The surface of Pieksäwood's composite wood products is designed to look and feel like real wood and it has been roughened to make it as safe as possible, improving friction and reducing slipperiness. Our composite wood products are not as slippery as, for example, tiles or smooth concrete surfaces, so they are a safer alternative for outdoor terraces and other outdoor uses. However, it is important to remember that all surfaces can be slippery in wet conditions, so caution should always be taken when walking outdoors in wet weather or on a damp composite wood surface.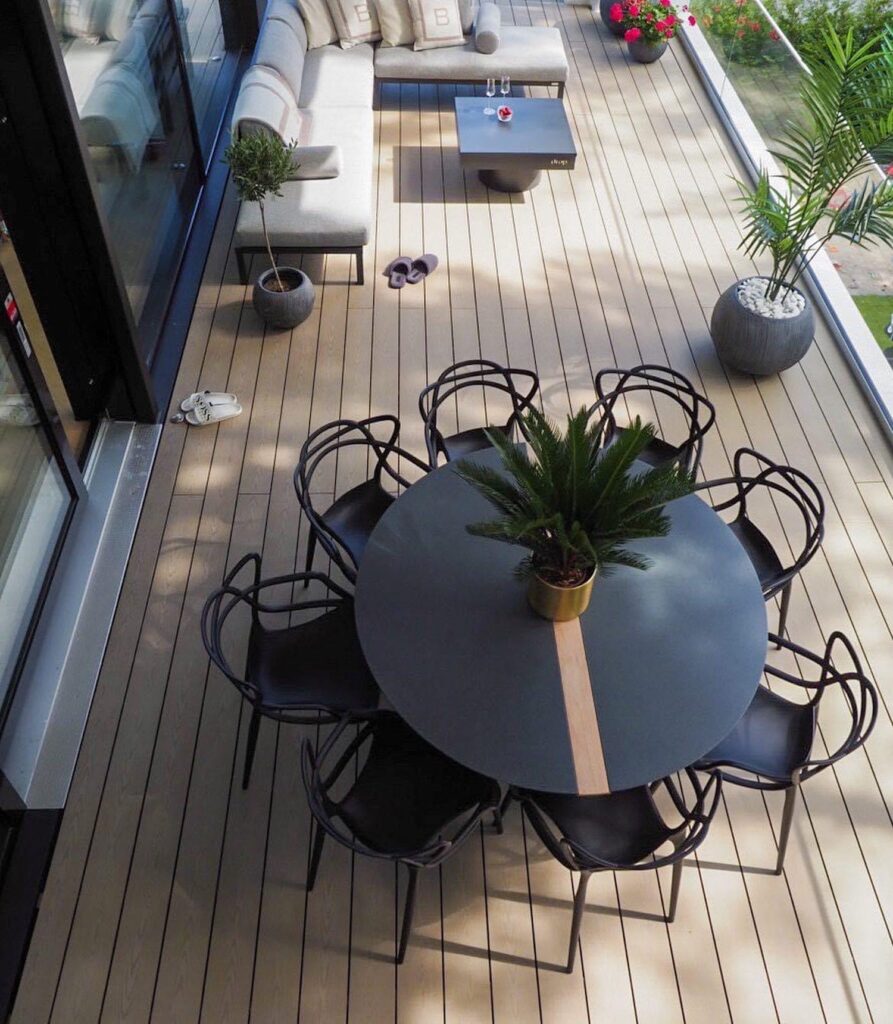 Were you not able to find an answer to your question?