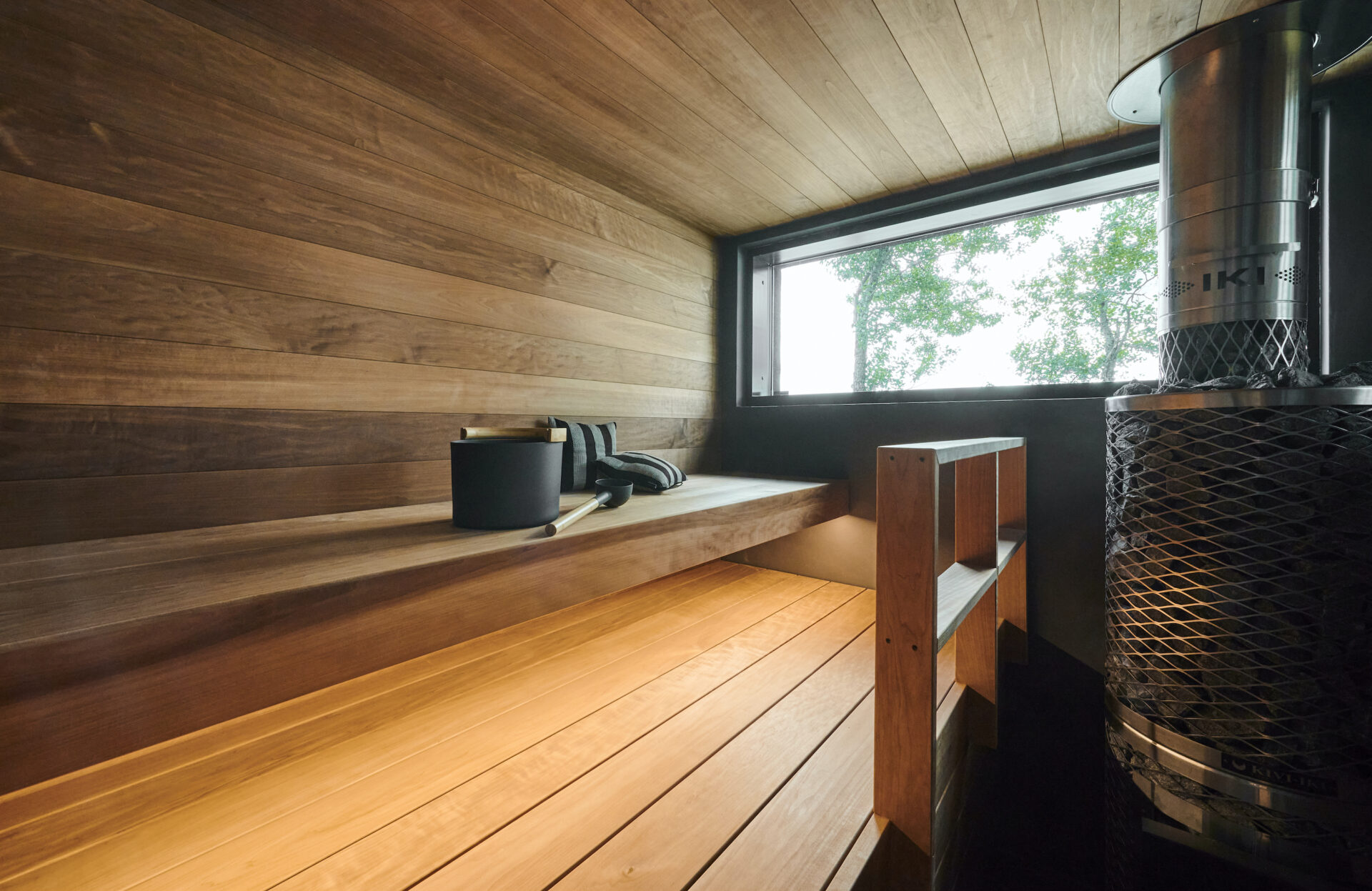 Frequently asked questions
Frequently asked questions about wood products
How should sauna panels and boards be maintained in a sauna or in a humid environment?
Looking after your sauna panels and benches depends on how they are used and the environment. The most important thing is to take care of drying the wooden surfaces after each time you go to sauna. You should keep the stove warm, the sauna door closed and the air valve open until the benches are completely dry. Sufficient ventilation of wet rooms must also be ensured.
If necessary, the surfaces of sauna panels can be cleaned with a soft cloth and a mild detergent. The sauna benches can be cleaned with a detergent designed for this purpose, if necessary. Remember to take care of drying the sauna also when washing it. Avoid strong chemicals that can damage the surface of the wood.
Treating the benches and sauna panels with a protective agent is not necessary, but we recommend it as it protects the wood from moisture and contamination, helps cleaning and extends the service life. Sauna wax or paraffin oil, for example, are suitable for treating the benches. Oil will make the tone of the wood a little darker. Be sure to also treat the cut ends of the board to prevent cracks.
We recommend treating the benches renew annually or more often if they are used actively. Wood surfaces can be sanded lightly if necessary, but the surface of the wood must be thoroughly cleaned of dust before treatment.
How do I avoid moisture damage to the sauna panels and board material?
Use high-quality materials and follow the manufacturer's care instructions: After each use, dry the benches with residual heat from the stove and efficient ventilation. Use the correct installation method so that air can circulate correctly between the benches and water does not remain on the surface of the bench for a long time. Remember to take care of regular maintenance and inspections.
Can the sauna panels be installed by yourself or is the help of a professional recommended?
Installation of sauna panels requires precision and care. If you are not sure of your skills, it is a good idea to seek professional help to ensure proper installation and adequate air gaps.
What kind of interior spaces can wooden panels be used in?
Wooden panels can be used in a wide range of interior spaces, such as living rooms, bedrooms, kitchens, bathrooms, saunas, hallways and public spaces. Heat-treated pine and heat-treated Monterey pine are also suitable for outdoor use.
Can the sauna panel be used elsewhere than in the sauna?
Yes, sauna panels can also be used outside saunas. Although sauna panels were originally designed for decorating saunas due to their moisture resistance, they can be applied to many different spaces and uses.
How to maintain and clean wooden panels?
Wooden panels can be cleaned with a damp cloth and, if necessary, a mild detergent.
Should the loss of material caused by installation need to be taken into account in the amount of panels ordered?
When ordering panels and bench boards, it is good to take into account that about 10–15% of the material may be lost.
How often should the sauna benches be maintained?
We recommend repeating the treatment annually or more often if the sauna is used actively. The benches can be treated with paraffin oil or a protective sauna wax, for example, as the treatment extends the service life of the boards and protects them from moisture and stains. Paraffin oil will make the original tone of the wood a little darker.
What are the advantages of heat-treated wood products compared to untreated ones?
Heat treatment improves the moisture resistance of wood, reduces cracking and deformation and gives it a beautiful, darker tone without added chemicals. Heat treatment also gives the wood an invigorating, wonderful, genuine wood scent that stays in the wood for a long time.
How do I choose the right type of wood for sauna panels or benches?
Make your choice according to the style of the sauna, the desired atmosphere and your own preferences. If necessary, talk to the seller and compare the features of different wood species in saunas. In general, wood species that are moisture resistant and have a low thermal conductivity, which means they do not feel hot against the skin, are recommended as bench boards. Heat treatment improves the durability of the wood and further lowers the thermal conductivity. Resin-free wood species are the most aesthetically pleasing choice for saunas as resin rises to the surface of the wood, especially in warm areas. Knot-free wood creates a harmonious atmosphere in the space. Knots on bench boards may feel unpleasant against the skin. In addition, it is possible that a dry knot can fall off in the heat of the sauna, making it an aesthetic nuisance.
For these reasons, the most common choices for sauna benches and panels today are knot and resin-free heat-treated aspen, black alder, aspen, heat-treated black alder and heat-treated Monterey pine.
Are the panels available with grooves and tongues at the ends?
Unfortunately, panels are not available with grooves and tongues at the ends.
What should the sauna panels be treated with?
Before installation, it is recommended to treat the sauna panels and boards with paraffin oil or a sauna wax designed for protective treatment. Paraffin oil will make the original tone of the wood a little darker. The treatment protects the wood from moisture and stains and extends its service life. The treatment should be renewed at least once a year or more often if the sauna is in heavy use.
Can a consumer customer also order products directly from Pieksäwood?
Of course! Private consumers can also order products from us.
What is the difference between STP and STS panels?
The abbreviations STP and STS refer to the panel profile. STP panels have a more traditional rounded edge while STS panels have a more modern straight and sharp edge.

What is the difference between heat-treated aspen and heat-treated alder?
The surface of heat-treated aspen is slightly more shiny than heat-treated black alder. However, their tones are very close to each other – black alder has a naturally slightly warmer and more reddish tone than aspen.
Are alder and aspen wood suitable for outdoor use?
As a rule, we do not recommend using alder and aspen wood products outdoors. Deciduous trees, such as aspen and alder, are soft wood species compared to spruce and pine, which contain resin. Because of this, they are also more susceptible to moisture and weather conditions. These properties are improved by heat treatment, which makes them suitable for outdoor use – although heat treatment improves the properties of wood, the surface of aspen and alder products used outdoors should be treated and protected with oil or paint. We recommend using heat-treated pine or heat-treated Monterey pine outdoors as they are more suitable for outdoor use thanks to their natural properties.
Why are aspen and alder your main raw material?
We have been using high-quality black alder and aspen as our main raw materials since the early 2000s when the processing of black alder and aspen at Pieksäwood began. The knot and resin-free nature, durability, high quality, beautiful tones and other good properties of these wood species are the reason for the emphasis on these species.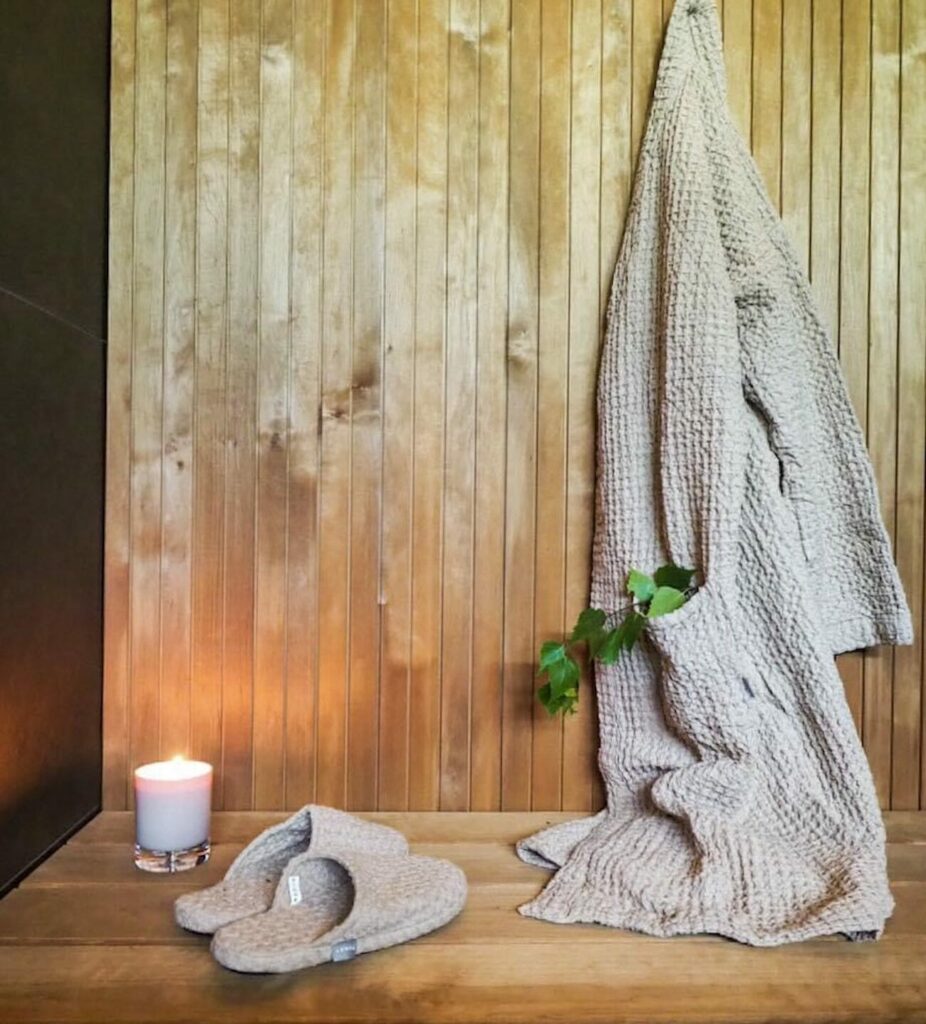 Were you not able to find an answer to your question?