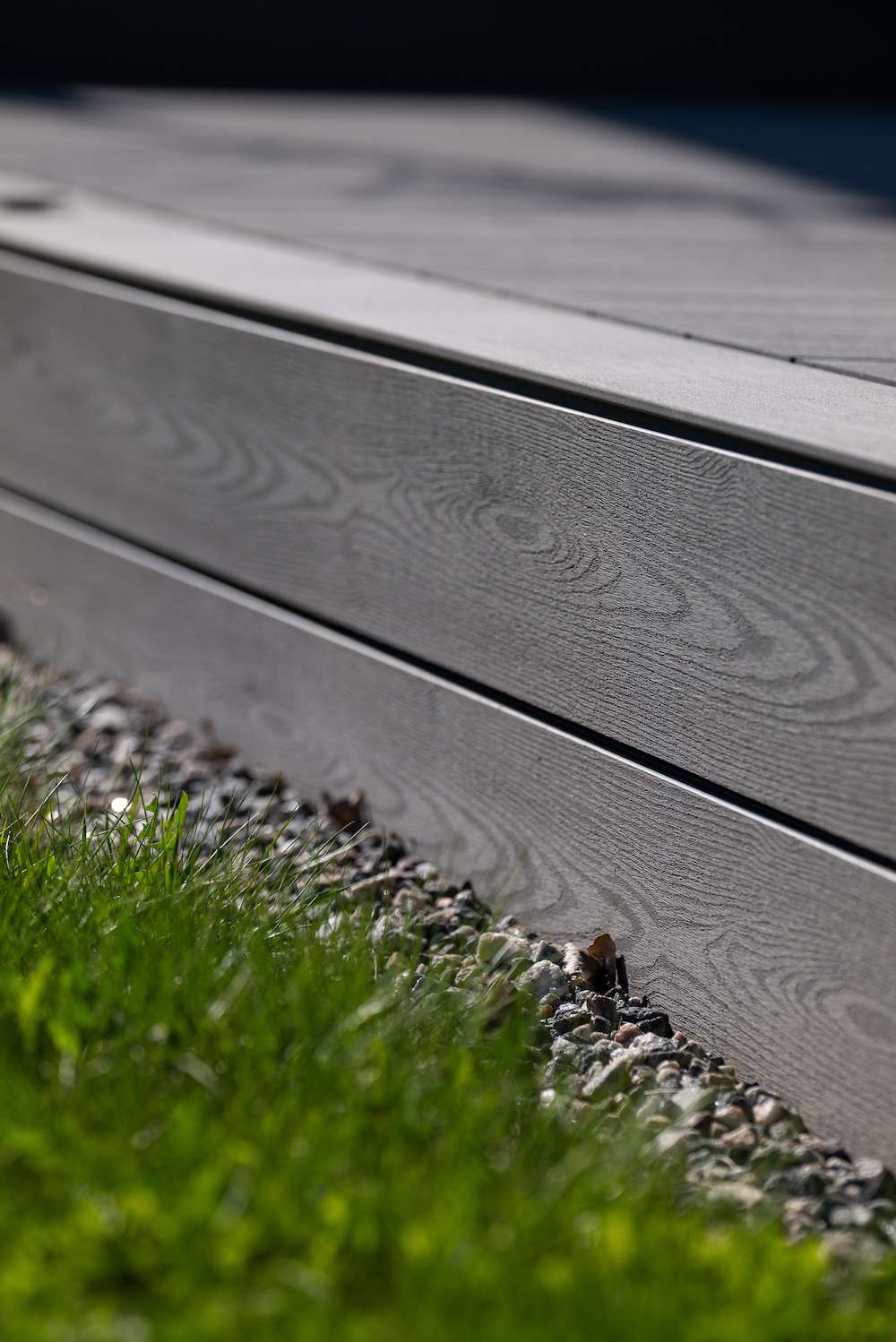 Cleaning composite surfaces
Clean regularly
The manufacturer has added a mildew prevention additive to the product, but any potential problems can best be avoided with regular, careful cleaning and the right installation methods.
Regular cleaning prevents stubborn, hard-to-remove dirt from forming.
Normal terrace maintenance procedures can be carried out with a nylon brush, a sponge, a garden hose and, if necessary, a pressure washer. When using a pressure washer, ensure that the jet is not applied too close to the terrace surface and that the pressure is not too high in order to avoid damage. The jet must be directed in the direction of the plank. We recommend that you first try the pressure cleaner in an area that is not normally visible to ensure that the jet does not damage the surface.
Colour deviations may occur after cleaning if the original colour does not appear evenly, i.e. the terrace is not cleaned completely. A protective tray under the grill is a good way to prevent the terrace from getting dirty. A more detailed overview of how to clean dirt and stains from the surface of composite wood can be found below.
Oil
Oil must be removed immediately and cleaned with a degreaser. Wash with detergent and rinse with warm water. If the stains are absorbed into the material, they are very difficult to remove.
Grease stains
Grease must be removed immediately with a degreaser or detergent. If the stains are absorbed into the material, they are very difficult to remove.
Wine/fruit stains
Clean with normal detergent and rinse with water. Tough stains can be removed with citric or oxalic acid. Rinse with plenty of water.
Scratches
Scratches can be repaired by sanding the surface with fine sandpaper. The board must be sanded longitudinally and little by little while observing the condition of the surface.
Rust and soot
Water and detergent are suitable for cleaning rust and soot. A sponge or nylon brush can be used, if necessary. If there is a lot of dirt, a detergent with citric acid or oxalic acid can be used. Rinse with water.
Solvents and fuels
In order to prevent the wood fibre structure of the composite from being discoloured by solvent or fuel stains, these stains must be removed immediately.