Building a terrace is effortless with composite wood that is very much like real wood. Composite fences and terrace boards are pleasing to the eye and withstand capricious weather.
Every one of us knows how attractive a beautiful and functional yard is in the summer – but only if it is truly beautiful and functional. If you have thought for years about how your terrace or balcony could use a new look, could it finally be time to make your dream come true?
Composite wood brings luxury, ease and harmony to your garden and yard. Durable composite is, first and foremost, an investment in the future. You can enjoy the composite terrace and fence for years to come.
Composite board is made from recycled materials
Composite wood naturally combines the best qualities of recycled wood and recycled plastic, making it an unparalleled material for the yard fences and terrace.
Composite board contains
60% recycled wood
35% recycled plastic
5% bonding agents and dyes.
In recent years, consumers have been talking about the unpleasant effects of plastic on nature and many want to avoid unnecessary use of plastic in their everyday lives. However, plastic itself is a remarkably loyal material if used correctly. When used as a terrace board and fence material, you give recycled plastic a new lease of life.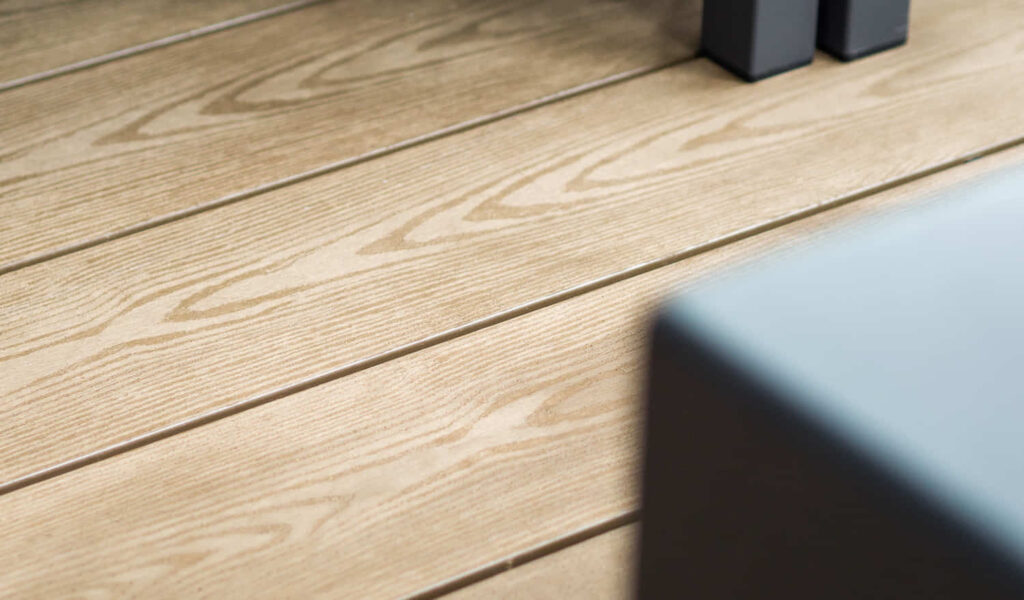 Why composite wood?
Are you dreaming of a maintenance-free terrace and fence? Is the durability of the terrace at the top of your wish list?
These features make composite wood invaluable. But it also has an abundance of other advantages.
Advantages of composite wood
Composite wood is a maintenance-free terrace board and fence material. Periodic washing of a composite terrace is enough to take good care of it.
Our composite wood is made from recycled wood and plastic, making it an ecological choice. It can also be completely recycled.
Composite wood is a healthy choice for you and the environment. It does not contain toxic ingredients such as heavy metals or chemicals.
When used as terrace boards, it is exceptionally resistant to mechanical wear and changing weather. The life cycle of composite wood is generally longer than that of natural wood.
The colour of composite wood remains unchanged. After installation, the colour will fade slightly as a result of UV radiation, but then it will stop fading and become stable after a brief period of exposure.
As the terrace board does not have grooves, pollen and grains of sand can be wiped off easily.
Terrace boards and yard fences are effortless to install. Composite wood is also known for its exceptional dimensional accuracy.
A composite terrace feels comfortable under your feet and there are no splinters or cracks to tickle the soles.
Composite terraces have a matt finish so you don't have to worry about slipping in the rain.