Trends change, but the love for wood remains. Interior designer Piia Holappa explains how popular interior panels blend beautifully into the decor.
People typically want a wide range of natural materials for their homes, but one substance stands out: wood.
Interior panels are a quite popular way to use wood to bring beauty to the home in an easy yet spectacular way.
Interior panels make spaces distinctive
– You can experiment with imaginative solutions from wooden panels and battens in any space of the home," encourages interior designer Piia Holappa from Hehku Sisustussuunnittelu.
Wooden panels are an impressive surface material both on the ceiling and walls. You can also make other flat surfaces of your home stand out with battens.
-You can dedicate a corner of a large living room for reading with the help of interior panels or battens, for example, to make the corner stand out nicely from the rest of the space.
Whole wall panelling of bedrooms is also popular. If you want to use wood in a more discreet way, there other ways to do this.
– You can even build a headboard from interior panels and embed reading and atmospheric lighting into the board.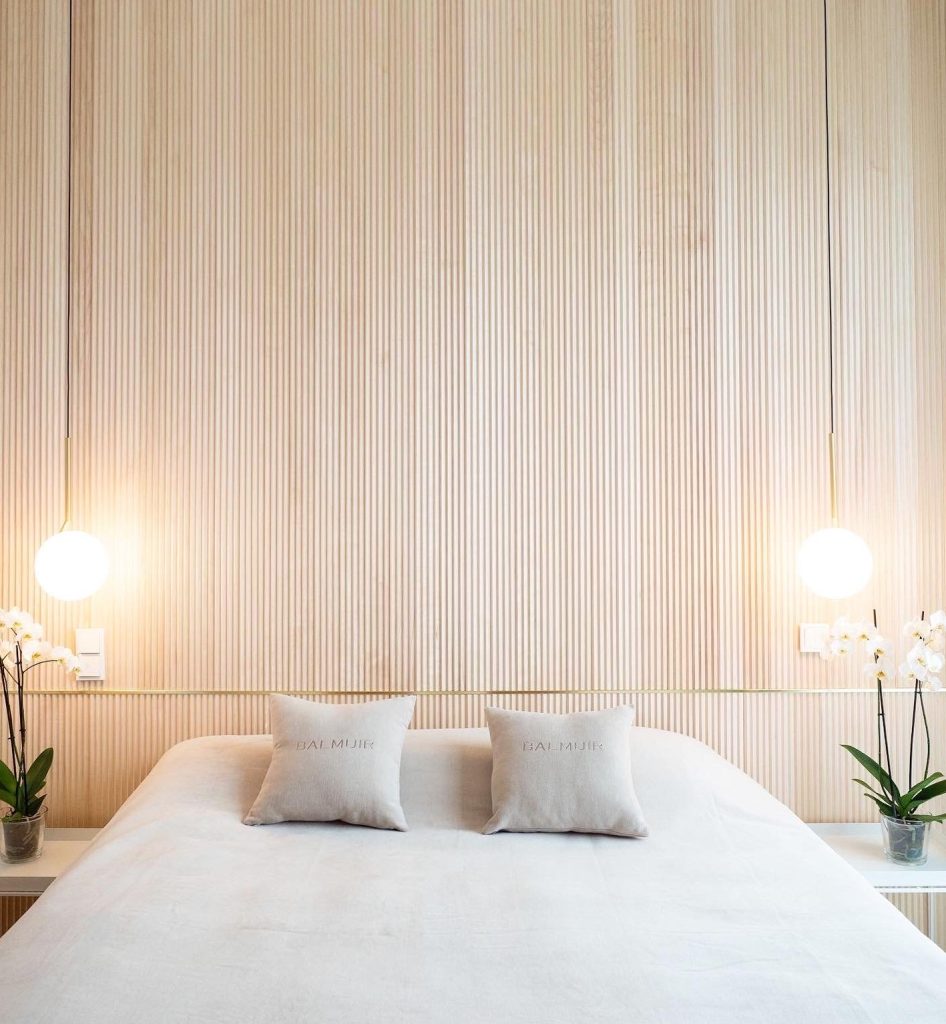 According to Holappa, using battens as room dividers is also popular.
– A room divider can also be something else than just vertical strips next to each other. It can be combined with shelves, for example – depending on how skilled the batten handler is.
A few years ago, the trend was to cover almost the entire home with wood, but it can also be used more innovatively.
– If wood is only a small part of the home, it may stand out in a completely different way.
Wooden panels make the sauna and bathroom more lively
Wood is perhaps most familiar to Finns from the sauna. In addition to the sauna, bathrooms can also look vivid with wooden panels.
In addition to the walls and ceiling, a little everyday luxury is also provided by a "wooden mat" made of battens, which, according to the interior designer, warms the soles of feet comfortably on top of the tiled floor. The batten mat is easy to lift to dry, if necessary.
– In wet spaces, it is important to ensure that the material is surface-treated appropriately. The same goes with summer cottages that are used infrequently.
According to Holappa, high-quality wood is unfazed by the changing weather conditions in Finland. For example, the robust black alder can withstand even harsh temperature changes. Proper oil or wax treatment further improves its durability.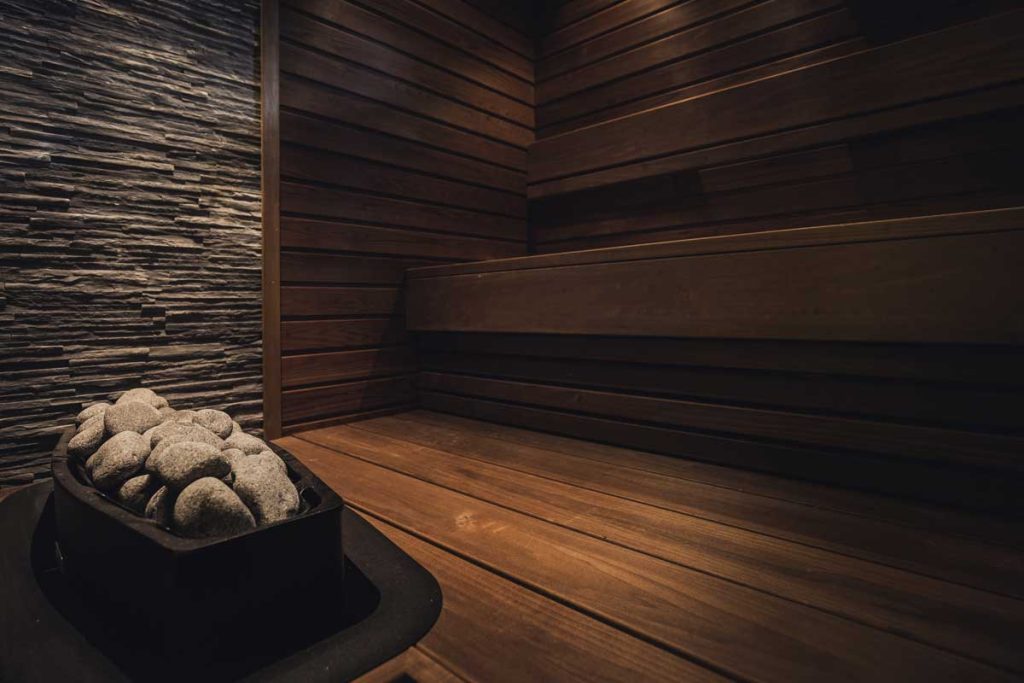 Wood is a cosy material for Finns
Wood, the green gold of our forests, has been used in Finnish interior decoration for decades. What is so attractive about it?
– Wood is, above all, a cosy and familiar material for us Finns, Holappa says.
Its homeliness is undoubtedly visible all around us: the forests decorate the Finnish landscape, which makes you appreciate nature even inside your home.
In addition to its familiarity, the interior designer lists a long list of other benefits of wood: its natural, antibacterial and warm properties. However, according to Holappa, the most important features of wood are its long service life and adaptability.
– If a wood product is of high quality, it will withstand time, wear and tear. With the right care, wood will wear beautifully, while metal and glass surfaces, for example, can be easily scratched.
A few dents along the way do not matter as wood can be maintained almost indefinitely.
Advantages of wood
Long service life
Adaptability
Antibacterial
Ecology
Warmth
Homeliness
Use interior panels boldly
Light interior design panels and various battens, in particular, have been popular among Finns for a long time.
– A lot of dark wood was seen at the Naantali Housing Fair, however. I believe it will slowly become a popular alternative to light panels.
If a light or dark wooden panel feels too ordinary for your home, you can also design the panelling more boldly.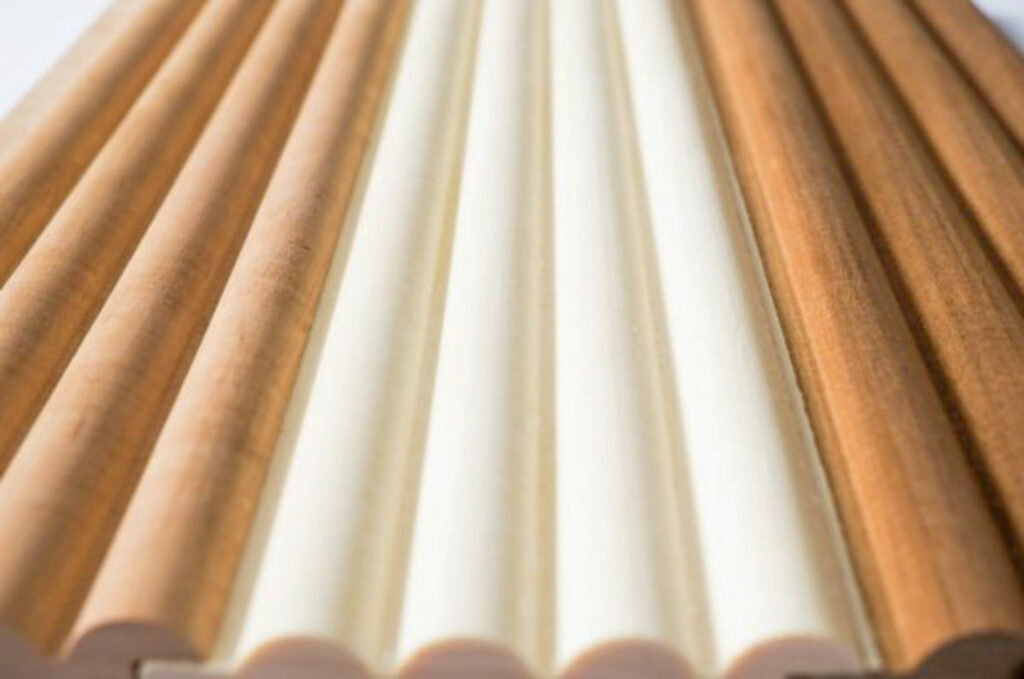 – Wood does not necessarily have to be wood-coloured. You can oil, wax and paint it to your liking, says the interior designer.
Interior panels can be combined, for example, with a boldly coloured wall or lively textiles. It is also important to note that different species of wood have naturally different colors.
– The idea of a wood panel that first comes to mind is not necessarily the only option. Explore different species of wood and consider what they would look like in your own home.
A home that looks like you can also be created by combining different species of wood and interior panels of different shapes. The layout can also bring out your personality.
– Wall panels do not have to run in a straight line. The direction of the layout and the spaces between the battens are easy ways to make the interior look interesting.
Inspiration from nature
– My rule of thumb is that materials, shapes and colours that work together in nature are also a suitable combination in interior design, Piia Holappa says.
As wood comes from the forest, stone is a harmonious and beautiful choice to go along with it as they also enjoy each others' company in the forest. In addition, natural textiles such as flax, cotton and wool bring out the best in wood.
Glass is also an excellent choice next to wood.
– Many people find it attractive if the walls and benches of a sauna are made of wood but the door is made of glass. The contrast between the matt wooden surface and the glossy glass is beautiful.
What about colours? Natural tones are a safe choice but, in the opinion of the interior designer, any colour matches wood. You can use your favourite colours.
– You should look at the big picture. How big a role does wood play? What about the natural tone of wood? What kind of space do you want to create in the first place?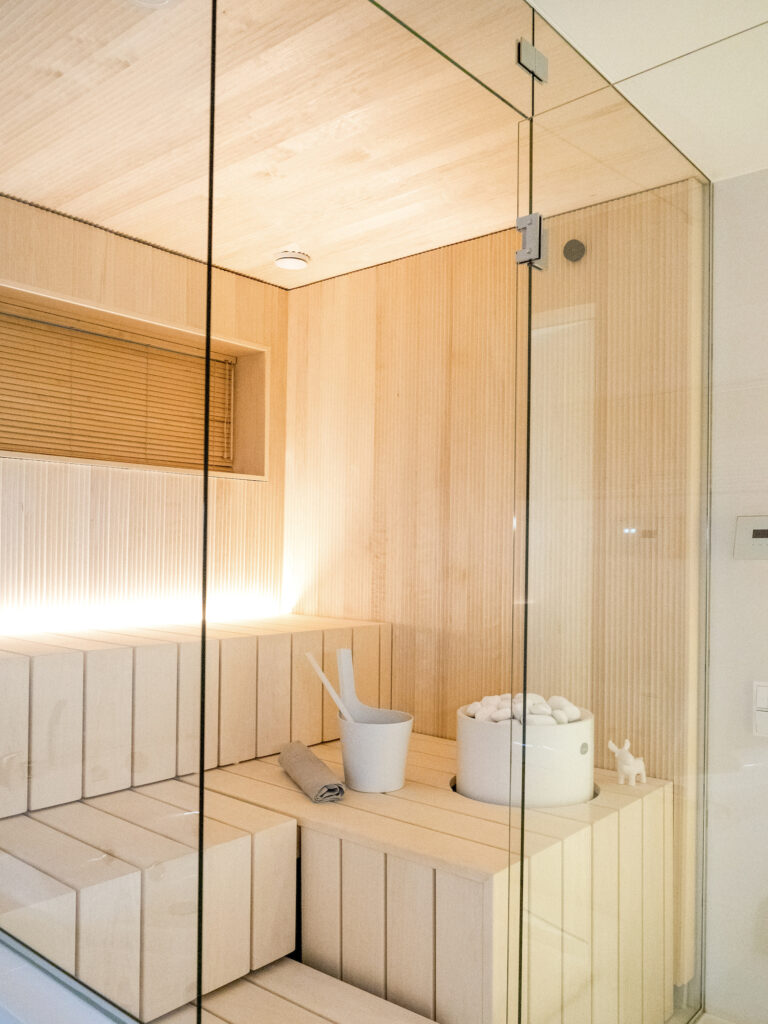 Decorate with domestic wood products
As an interior designer, Piia Holappa always tries to offer her customers a product manufactured in Finland, whether it is wooden panels, flooring or furniture.
Changing life situations, such as moving to a new home, typically involve a need for interior design. At the same time, the change offers a great opportunity to reflect on material choices in the long run.
However, the budget and a tight schedule typically determine what kinds of materials are chosen for the interior design. This is despite the fact that careful planning and investing in quality can lower the cost of interior design in the long term.
– What if you invest in quality materials and compromise on some other aspect of interior design? For example, you can buy used furniture inexpensively for some time to obtain a budget for long-term furniture.
Quality materials are closely linked to the best advantages of wood previously mentioned by the interior designer: long service life and adaptability.
– There is a wide range of wood products available on the market. If you want durability in your interior design, domestic quality products are definitely worth using.
Pieksäwood brings beauty to your home
Over the years, we have provided numerous homes with beautiful, high-quality and durable handcrafted wood products from Finland.
Our selection includes light aspen and warm, reddish black alder to provide harmony in all areas of your home. In addition to aspen and black alder, heat-treated aspen and heat-treated black alder as well as heat-treated Monterey pine and heat-treated pine are also included in our product range. We heat treat the products in our own heat treatment plant in Pieksämäki.
Fall in love with Pieksäwood's interior panels and make your interior design dreams come true.